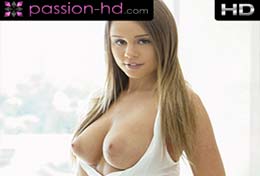 www.passion-hd.com !
This time we review PassionHD, one of the ePorhHD partners that cares more about the beauty of a porn movie than about its naughtiness. If you are into more passionate sex, you should really check out the rest of our PassionHD review, to see if they offer the kind of intense action you lust and crave for. Just because the porn here is passionate and because the focus in these movies is on the female beauty, doesn't mean you won't get kinky things out of this collection. The porn on this site is featuring all kinds of naughty fantasies, including anal sex and ass to mouth, cumshots and creampies, threesomes and lesbian sex, assworthiping and deepthroat, plus many other fetishes such as feet play or girls with glasses.
All the models on this site are slim, fit and with perfect boobs, both small and natural or big and fake. Most of them are under 25 years old, white American girls who are looking forward for a career as an adult model. However, you will also find some 35+ years old chicks and some stunning MILF, sometimes in hot threesomes with the teens mentioned earlier. Besides the hot models, a thing that makes this collection so successful is the perfect work of the directors and camera crew, who managed to capture the erotic atmosphere of the set and bring it to you on video. If you want these movies on a big screen with headphones, your experience will be almost unbelievable. A better porn experience than this you will only get with a VR headset or with a real porn star in your bedroom.
The library of this site offers over 500 exclusive and well directed porn movies. All of them are available in HD, and about half the collection is available in Ultra Def 4K resolution. The videos are on average 30 minutes long and they come with a gallery featuring 200 images (both photos and screen caps). The site is still active and members get three new videos/galleries per week. You can download all videos and galleries of this site. The videos are available for download as MP4 and WMV formats, while all galleries come in Zip sets. There is no download limit on this site. The only limit imposed by Passion HD on its members is the 10 times log-in restriction. You can only log in on the site 10 times a day. That's for assuring that members don't share accounts like people do with their Netflix accounts.
Once you're a member, you will be able to navigate the PassionHD member area and stream or download the movies on any device, including smartphones, tablets, gaming consoles and smartTVs. The navigation and browsing will run smoothly in the member area of this site. Passion HD offers a proper porn user experience, with filtering and sorting tools, favorite tracking system, rating system and more. The same user experience is assured for when you access the site on mobile devices.
All in all, Passion HD is the kind of site you need when you need when you're tired of fake orgasms in porn movies. The site you need when you want to see porn start truly enjoying themselves in front of the camera. If you want to check out all this porn awesomeness before you become a member of the site, then you should just check out Passion HD porn videos on ePornHD. We selected the best features and we offer them to you in HD for free, on both mobile devices and computers.
Download all porn parties videos here.
Latest Passion-HD.com Porn Videos