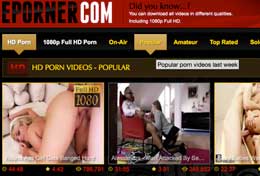 www.eporner.com !
Eporner is up for review today on ePornHD, and this time, we have the pleasure to feature a site that not only has lots of HD and FullHD content, but its library features all kind of naughty porn niches, from the most sensual and erotic, to the most hardcore and dirty. On this site you will be able to satisfy many of your porn fantasies. Not only will that, but the interface of this huge porn collection offer an amazing user experience. I can go as far as saying that this free HD porn site can is more organized and easy to navigate than many pay porn sites on the internet. If you want to learn more about both the porn and the interface, but also about many other features of this site, check out the rest of our Eporner review.
Great Mix Of XXX Fun
If you are looking for a site that could satisfy all of your porn needs, look no further than Eporner. With a very large collection of 632,160 videos at the moment of writing this review, the library of this free porn website features all kinds of niches. You will find here professional and homemade porn videos, long and short, in standard quality and HD and even in FullHD 1080p porn videos.
As for diversity, this collection features porn from over 50 main categories, including popular ones, such as amateur, big boobs, anal, teen, MILF, BDM, webcam, threesome, lesbian, but also more specific kinks, such as ethnic porn, role play (with lots of doctor/nurse porn), massage, lingerie, small tits, fisting, BBW, swingers or orgy. You will also find over 30,000 free gay porn videos on Eporner. The videos range for 5 to 30 minutes long, with most of the videos around 13 minutes and some even with more than an hour of hardcore action.
Besides videos, this site also has a large collection of photo galleries and even animated porn GIFs. There's a large community on this site, which gets involved in discussions about porn stars, their movies and other adult related topics in the comment sections of the site. The registered members will have extra features and they can upload their material. Eporner offers free porn memberships.
A Cool User Experience
The user experience on Eporner will surprise you, especially since we are talking about a porn site where you don't pay a membership. The interface of this site is offering lots of tools and design elements meant to enhance the navigation and browsing experience of the members. On the left side of the browsing page you will find the complete list of 50+ main categories, which can be used as filters for custom searches. There's also a search bar, all the content is tagged, and the results of your searches can be sorted by popularity, number of views, length or upload date.
Since the site is free, several types of advertisement are featured on it. There are a couple of pup-up banners and pages, a small flash banner in the upper left corner of the page that advertises pay porn sites and also Live Sex and Meet&Fuck sections which will take you on Visit-X (live sex chat) and Adult Finder (dating site).
Eporner Review Conclusion
After spending quite a decent amount of time on Eporner, I concluded that this site is great for any porn fan out there, no matter what kinks and xxx videos might do the thing for him or her. The site has a lot of female-friendly porn, it comes with high-resolution videos and photos, and it can be accessed on both computer and multiple types of mobile devices. It's safe, free of malware and fast loading. If you want free FullHD porn on a site that doesn't take forever to load and buffer, Eporner is a good choice.
Watch more videos from, Eporner.com.
Eporner.com Best Porn Videos